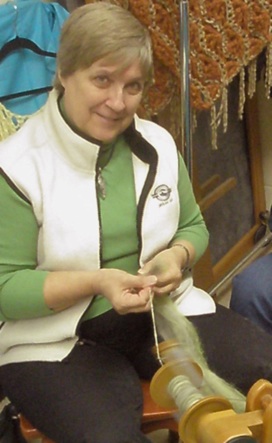 Mary Ann has been spinning and weaving for over 25 years. She is a native of Pennsylvania and has lived and traveled extensively throughout Europe and the Far East. Mary Ann has studied textile arts throughout the world where she has developed many of the techniques she uses in her work. She is a graduate of Park College in Missouri with a degree in Business Administration, but her real love and work has been in the textile arts that she has been involved in most of her life.
Mary Ann is presently living in the area where she spins and weaves using a variety of fibers. One of the fibers is the fleece from the Angora Goats at Slateford Farm (part of the Delaware Water Gap National Recreation Area). She demonstrates and teaches spinning and weaving and produces a number of items which she offers for sale.
Mary Ann develops her hand-spun and hand-woven items to convey the natural beauty and softness of the fibers. She achieves an elegance of design through the simplicity of her work using the inherent beauty of the fibers.