Spencer Reed, guitarist and vocalist, joined the Soul Distributers in 1972 and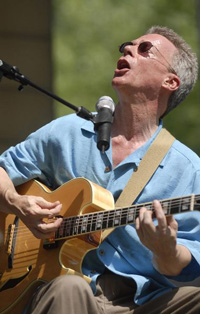 played a circuit of social clubs and private dances in Harlem and the South Bronx.

At age 19, he became guitarist for the Chris Towns Unlimited, perfoming in uptown night clubs and at the Brown Sugar on 50th St. and 8th Ave. This group contained some great and experienced musicians. Jimmy Lewis, bass player with Count Basie and legendary drummer Charles Honeyboy Otis were extremely generous of spirit and took on a mentoring role in Spencer's life and career. This experience included recording along side guitarist Cornell Dupree and going on the road for the first time.

Spencer toured with the USO throughout the Caribbean and Panama and after freelancing in New York settled in the Pocono Mts. of Pennsylvania where he resides and works often with his wife, singer and bassist Nancy Reed.

He performs often at the Deer Head Inn in Delaware Water Gap, a jazz landmark.

Spencer has accompanied many of the traveling acts that pass through the Pocono area including Billy Ekstine, the Fifth Dimension, Robert Goulet, Sergio Franchi, Frankie Laine, Julius LaRosa, Eddie Fisher, and Bobby Rydell.

Spencer has done some road time with the Bob Crosby Bobcats, in Iowa at the Bix Beiderbeck Jazz Festival in Davenport, the Sacramento Jazz Jubilee in California, the Red Nichols Jazz Festival in Utah, the San Juan Islands Jazz Festival in Washington and many others.

Spencer has performed and recorded with pianist/vocalist/songwriter Bob Dorough, on School House Rock Earth and others in this historic educational series. Spencer can also be heard as the voice of a rapping, cartoon Grizzly bear.

Spencer has received two state grants from the Pennsylvania Council for the Arts as producer of the local television show Pocono Musicians Presents on cable TV13 BRC.

Spencer is currently the guitar instructor at Blair Academy in Blairstown, NJ and also maintains a schedule of private students.